Forensic Loan Auditing is a new way to defend homeowners and increase the chances of getting a loan modification. Forensic Loan Audits are a way to audit a loan and uncover violations of lending rules and regulations. Once these violations have been uncovered and the specific law violated quoted you can put it in a report and send it to the lender. This will help obtain a loan modification since the Lender will know it is in violation. Lenders take forensic loan audit reprots very seriously. The steps involved in foresic loan auditing are first obtaining the loan docs. Then going through them looking for violations. After you have uncovered the violations you can then compile a report with your findings and send it to the lender. ForensicLoanSoftware.com offers a software package which will help you do a forensic loan audit. The Forensic Loan Audit Software they have will cite specific laws violated and then export them to a report with all the violations listed and each specific law quoted. The laws quoted include laws from TILA, RESPA, and HOEPA. It also will audit high fee mortgage loans and apr audits as well. The software allows you to run unlimited amount of reports and audits.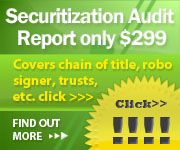 http://www.forensicloansoftware.com
The video demonstration below demonstrates the Forensic Loan Audit Mortgage Audit Software in use. Please ensure your speakers are turned on for your listening convenience.
This video gives an overview of the forensic loan audit business and software package.
The video below is a video demo of the Real Estate Office Management Foreclosure/Short Sale Enterprise Professional Software with CRM.
Click play button to view the video demo.
Part two can be viewed by clicking on the link below the video demo.
The second part of the demonstration can be viewed by clicking here.
The Deluxe Lead Finder Software Pro demonstration below with audio commentary. Please click on this video and watch how to find fresh targeted leads with this software also included with your order today.

Buy it today at the special package price of only $39, can be installed on up to 10 different computers!
Buy it today at the special package price of only $39, can be installed on up to 10 different computers!